Wise x Airwallex: Which multi-currency account is best for businesses?
Do you know how to choose the best financial institution to hold your company's assets? If you own a startup, an online business, or a company that sells and operates overseas, you'll likely need a global business bank account, where you can store multiple currencies on a single platform and avoid hefty exchange fees. Choosing the most suitable bank account for your business takes time and a lot of research. Among all the banks and fintechs, Wise and Airwallex, are the main references for global business accounts. The benefits of keeping these bank accounts are countless, but with some differences between the two services. In this article, we will highlight the best features of Wise and Airwallex to help you choose the best account for your company's finances.
EUR, GBP, AUD & USD business bank accounts
EUR, GBP, USD, AUD, NZD, HUF, RON & SGD electronic money account
50+ currencies across 130+ countries
Account opening: Free Minimum deposit: $0 Monthly fees: $0 Non-local currencies fee: $8 Transaction fees: None Exchange rates: 0.3% - 0.6% above interbank rates
Account opening: $20, £16 or €20 one-off fee to start receiving money Minimum deposit: $0 Monthly fees: $0 Transfer fees: - Fixed fee (about 0.4% depending on the currency) - Interbank transfer fixed fee Cash Withdrawals: $100, £200 or €200 for free
Unlimited access to members as analysts, developers, admins & view only
Unlimited access to members as admins & viewers
Associated borderless card + Unlimited virtual cards (available in Australia and UK)
Associated debit card (limited to Europe, Asia and Oceania)
Supported Payment Processors
PayPal, eBay, Shopify, Klarna, AfterPay
Heavily encrypted + strictly regulated
Heavily encrypted + strictly regulated
Through innovative currency conversion rates and streamlined customer service, Wise has reduced the financial burden for companies worldwide. The fintech offers e-money accounts in EUR, GBP, USD, AUD, NZD, HUF, RON and SGD, in addition to simultaneously maintaining balances of more than 50 currencies in the same account. Opening an account at Wise is simple and should not take more than 7 days to be approved, after submitting the necessary documents:
Once you open your Wise account, you're safeguarded by bank-level data security with end-to-end encryption. Your funds will be separated from Wise's segregated accounts, which protects your assets even if Wise is in financial trouble. The fintech is heavily regulated by the FCA, in the UK, and by FinCen, in the USA.
Transferring money can be stressful and time-consuming. With Wise, however, transfers are almost instantaneous with the best exchange rates on the market. The company charges a small amount of arout 0.4% per transfer, depending on the currency. In addition to the currency exchange rate, Wise also charges a low flat fee for any payments sent from the fintech to another bank account. If more than £100.000 (or equivalent in another currency), a discount on transfer fees will apply. Cash withdrawals at ATMs are free of charges if less than $100, £200, or €200, higher amounts are subjected to a 2% charge
You can manage your account completely online via computer or mobile phone and add your staff to help with finances as admins and viewers status. When you set up your business account on Wise, you'll get a global debit card (available in Europe, Asia, and Oceania) that supports multiple currencies. Additionally, you can also provide your employees with a dedicated card for business expenses, allowing you to track their spending in real-time. The card is also used for ATM withdrawals. Wise account also enables you to automate payments via API and support integrations with Xero and Quickbooks, as well as it works with Stripe and Paypal for withdrawsld to external accounts.
Wise provides the ideal account for small, medium, and large companies that handle different payment methods and various currencies, making multiple cash deposits per month. The fintech has a strong presence in the European Economic Area, being strongly regulated and widely accepted by customers as a receiving account.
Opening business accounts in EUR, GBP, AUD, and USD is easy with Airwallex. You just need to provide your email address, phone number, business name and agree to the terms and conditions. Despite having different account details, you can also store more than 50 currencies in online wallets, saving you from hefty exchange fees. Airwallex is authorized as an Electronic Money Institution (EMI) for European customers. Furthermore, it's strictly regulated in the UK, Australia, Canada, and Hong Kong, ensuring the safety of your assets. The fintech also protects your data behind multiple layers of authentication and encrypted security, being accessed only for you and some designated team members.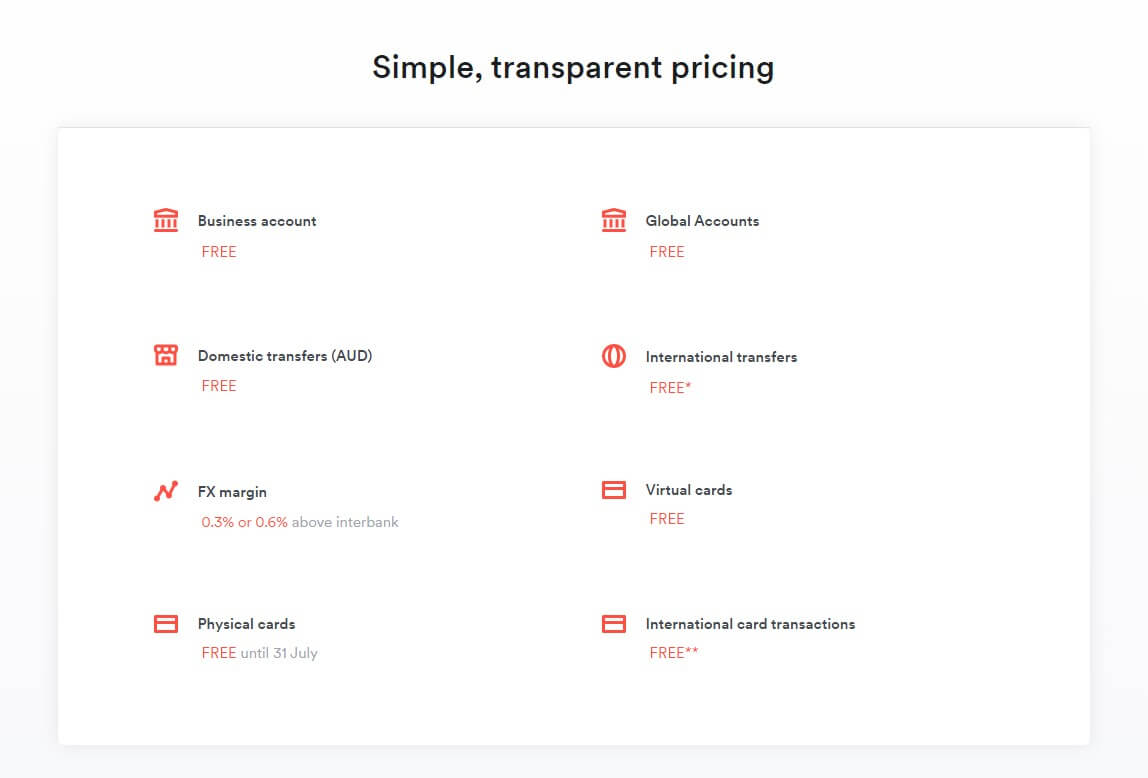 As Wise, Airwallex's international transaction fees are one of the lowest on the market, up to 90% cheaper than banks. UK Domestic transfers, as well as batch transfers, are free of charge, however, international transfers cost a fixed rate according to the payment method and currency, plus a variable margin from exchange conversions (about 0.5% to 1% above interbank rates).
As a digital bank, all your finances are tracked online. To help with the management, you can give access to your staff as analysts, developers, and admins status. They can have full or limited access to the bank account in order to distribute financial tasks. Setting up an Airwallex account gives you a free borderless card and the possibility to create multiple virtual cards, which you can customize to help identify what each one is being used for. All business accounts can be automated through an API, in addition to the integration with Xero, making it easy to track and centralize payments in one account.
Who should opt for Airwallex
Airwallex stands out for its streamlined service and easy account opening. The business account is suitable for small and mid-sized companies that are still expanding into different markets. Airwallex has a strong presence and recognition in the Asian and Oceania markets, being recommended for businesses that operate in those regions.
LEARN MORE
How to open a US business bank account as a non-resident of the US? Read more on our ultimate US business bank account guide here.