Mercury x Airwallex: Choose the best bank for your startup
Opening a business bank account is a big step towards your startup's financial maturity. It separates personal from company expenses, allowing you to effectively track cash flow. As your corporation grows, so does your relationship with your bank, that's why you should carefully choose the best financial institution to hold your entity's assets.

There are many startup-focused banks that offer attractive perks, such as low fees, mobile banking, and fast transactions. Two of the new entrant business banks to keep an eye on are Mercury and Airwallex. In this article, we will compare their biggest features side-by-side, so you can make the best choice for your company's finances.
Real US business bank account
EUR, GBP, AUD & USD business bank accounts
50+ currencies across 130+ countries
Account opening: Free Minimum deposit: $0 Monthly fees: $0 Transaction fees: None ACH: $0 Domestic Wires: $5 (Free for Tea Room customers) International Wires: $20 (Free for Tea Room customers)
Account opening: Free Minimum deposit: $0 Monthly fees: $0 Non-local currencies fee: $8 Transaction fees: None Exchange rates: 0.3% - 0.6% above interbank rates
Unlimited access to members as admins & bookkeepers
Unlimited access to members as analysts, developers, admins & view only
Associated debit card + Unlimited virtual cards
Associated borderless card + Unlimited virtual cards (available in Australia and UK)
Supported Payment Processors
Stripe, Square, Shopify & PayPal
PayPal, eBay, Shopify, Klarna, AfterPay
Xero, US PayPal, Gusto, Stripe & Quickbooks
Heavily encrypted + funds FDIC-insured
Heavily encrypted + strictly regulated
If you have a US-based startup or an international business also registered in the country, you can easily open a business bank account at Mercury online and overseas. This neobank is ideal for entities that want to establish a strong presence in the world's largest economy without facing all the bureaucracy of brick-and-mortar US banks. Mercury provides a real US account according to the country's legislation, which means that your assets are protected by the United States government. More specifically, they're insured by the Federal Deposit Insurance Corporation (FDIC) up to its limit of $250.000.
Mercury is an internet-based startup that offers full banking experience without the need to visit a physical bank branch. All of your entity's assets are managed on the website or mobile app (only available for iOS).

It's also possible to share financial responsibilities among your team with admin or bookkeeper status. You can have up to 14 sub-accounts with their own individual information and virtual cards.

Companies registered in Mercury receive a business debit card and can generate multiple virtual cards, which is excellent for online corporations that need to track different costs. Additionally, the cards can be personalized with different names for easy navigation.

One of Mercury's biggest benefits is also the supported integrations. Businesses can connect their accounts to Xero, US PayPal, Gusto, Stripe, and Quickbooks, enabling automated payout flows to scale a company.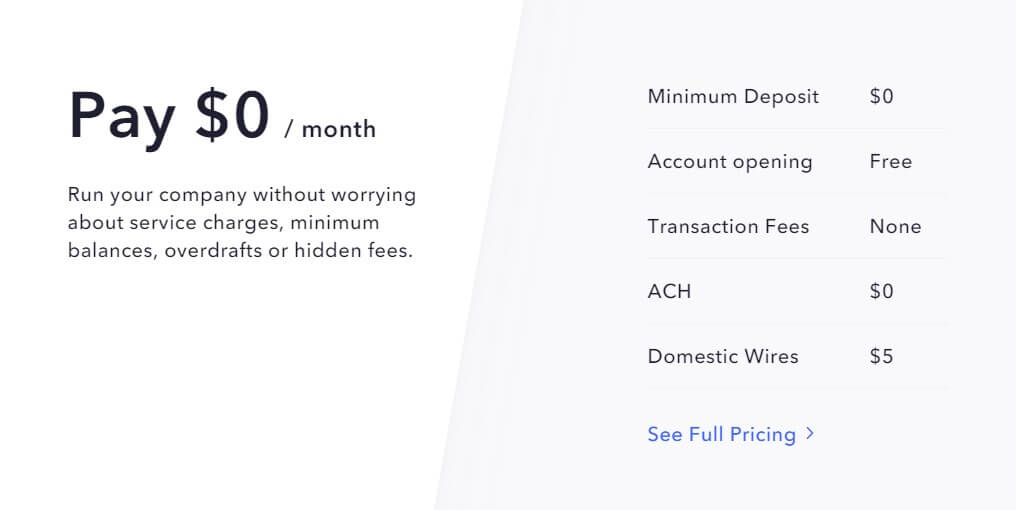 One of Mercury's most notable benefits is that your account is free of charge. You can maintain your account without worrying about monthly fees, also being able to send money electronically for free. The only fee you will need to pay is $5 for domestic and $20 for international wire transfers.

If your account has $250K in deposits, you will automatically become part of Tea Room, whose advantages include having extra funds invested into low-risk US securities, free domestic and international wire transfers, partner perks, and free tea.
Airwallex allows companies to open business bank accounts in EUR, GBP, AUD, and USD. It's also possible to hold funds in multiple currencies, eliminating high conversion fees. These features, combined with a straightforward and simple account opening, make this startup excellent for fast-growing entities operating in different global markets.

The fintech is authorized as an Electronic Money Institution (EMI) for European customers. Furthermore, it's strictly regulated in the UK, Australia, Canada, and Hong Kong, which ensures the safety of your assets in their business accounts.

Opening a business bank account with Airwallex is ideal for companies expanding their business globally, with an especial focus on Asia and Oceania.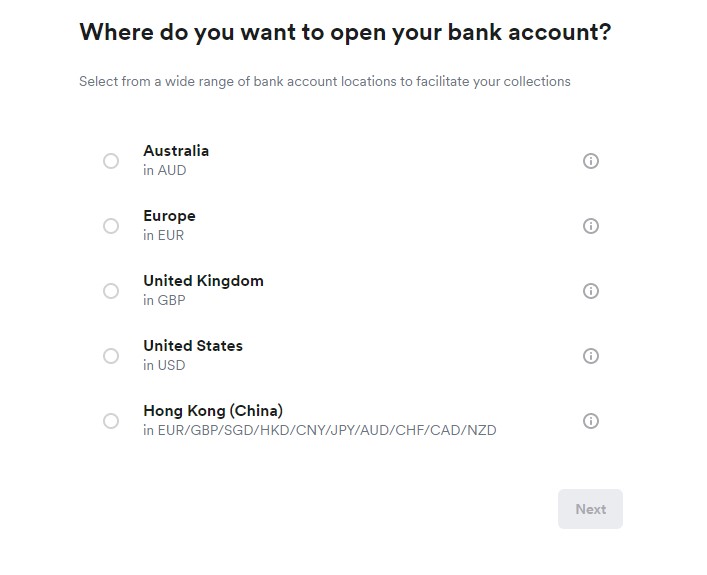 Airwallex international payments are one of the cheapest you can find. They support over 50 currencies in more than 130 countries, with exchange rates up to 90% cheaper than banks.

Customers can make batch transfers and UK domestic transfers free of charge, as well as within the Airwallex network. International transfers, however, cost a fixed rate according to the payment method and currency, in addition to a variable margin due to exchange conversions (trading between 0.5% and 1% above interbank rates).
Like Mercury, all your business assets are easily managed through your computer and phone. You can also grant other members access to the business account as analysts, developers, and admins, helping better distribute financial tasks.

Airwallex allows you to have bank details in the US, UK, Europe, Hong Kong, Japan, and Australia, making it easier and faster to receive payments in these regions. Moreover, it's possible to hold multiple currency balances at the same time, which eliminates many expensive conversion fees.

Opening a business account with Airwallex gives you a free borderless card and the possibility to create multiple custom virtual cards, a great resource for online merchants. Plus, you can automate your payments with API and Xero integrations, allowing you to stay up to date with payments.

Airwallex stands out for its streamlined bureaucracy. Opening an account is really quick and easy, just requiring your email address, phone number, company name, and agreeing to the terms and conditions.
If you want to expand your company's presence around the world, why not enjoy both business accounts? Mercury and Airwallex are free to open an account and do not charge monthly fees. Your company can benefit from both accounts without having to pay any extra for their services, allowing you to leverage the best banking practices to effectively manage your company's assets.
LEARN MORE
How to open a US business bank account as a non-resident of the US? Read more on our ultimate US business bank account guide here.