Mercury x Wise: Which account is best for your online business
If you own an online business that operates or sells internationally, you should strongly consider having business bank accounts in the major currencies from which you're receiving your payments. For popular online shopping, such as Amazon and Shopify, a US account would save a lot of hefty exchange fees since these platforms are dollar-based. Keeping multi-currency accounts is also beneficial to expand your entity's profits by easily accepting and issuing payments in different countries.

Rather than opening a bank account at traditional institutions, fintechs have proven to be a more efficient, faster and cheaper option for fast-growing companies. They skip all the red tape and offer straightforward services, manageable in a few clicks on your phone or computer.

Two fintechs have stood out in the financial market for their attractive rates and benefits, Mercury and Wise. In this article, we'll highlight their pros and cons to help you make the best choice for your company's finances.
Real US business bank account
EUR, GBP, USD, AUD, NZD, HUF, RON & SGD electronic money account
Account opening: Free Minimum deposit: $0 Monthly fees: $0 Transaction fees: None ACH: $0 Domestic Wires: $5 (Free for Tea Room customers) International Wires: $20 (Free for Tea Room customers)
Account opening: $20, £16 or €20 one-off fee to start receiving money Minimum deposit: $0 Monthly fees: $0 Transfer fees: - Fixed fee (about 0.4% depending on the currency) - Interbank transfer fixed fee Cash Withdrawals: $100, £200 or €200 for free
Unlimited access to members as admins & bookkeepers
Unlimited access to members as admins & viewers
Associated debit card + Unlimited virtual cards
Associated debit card (limited to Europe, Asia and Oceania)
Supported Payment Processors
Stripe, Square, Shopify & PayPal
Xero, US PayPal, Gusto, Stripe & Quickbooks
Heavily encrypted + funds FDIC-insured
Heavily encrypted + strictly regulated
Mercury is a tech-focused digital bank built for US-based startups. The fintech company has created the easiest way to open a US business account from overseas. It's ideal for foreign companies that are expanding into the world's largest economy and want to enjoy the benefits of having an USD account in a fast-paced environment.

Opening a business account is simple, as long as you have your company registered in the United States with an EIN (Employer Identification Number), which is a necessary requirement to open any real business bank account in the USA. Once you set up an account, your funds will be insured for up to $250K by the Federal Deposit Insurance Corporation (FDIC).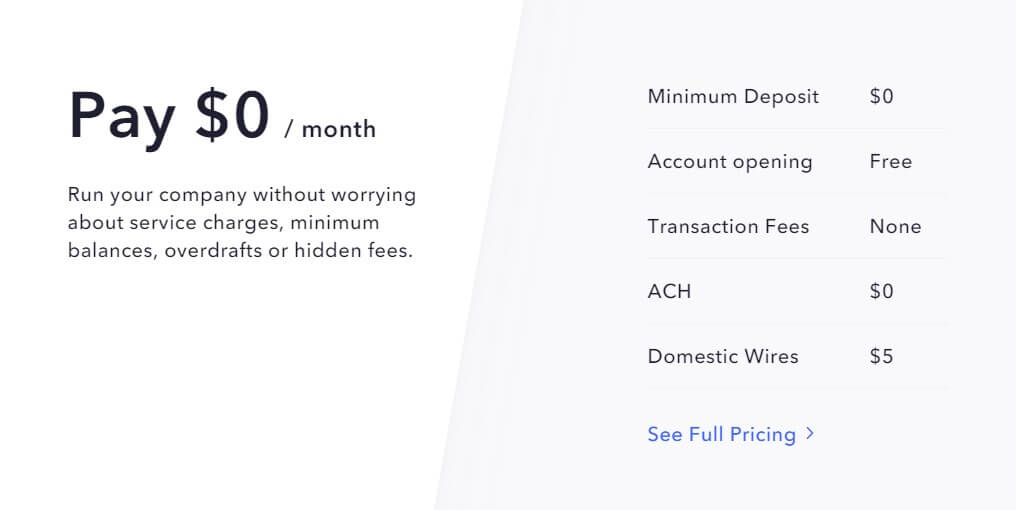 If you're opening a Mercury business account, get ready to take advantage of the most attractive rates on the market. There are no monthly or account opening charges, no minimum deposit, no electronic transfer fees, and you also get a debit card for free. The only charges applied are for domestic ($5) and international ($20) wire transfers.

In addition if your account holds at least $250K, you will be upgraded to Mercury Tea Room, where benefits include having extra funds invested in low-risk US government securities, free wire transfers, partner perks, and, of course, free tea.
As a digital bank, all operations are available online (website and iOS). Mercury understands that financial management can be shared between different team members, that's why the platform enables sharing this responsibility by adding staff as admins and bookkeepers status. There's no limit to the number of members you can have in your bank account.

Moreover, to ease handling your assets, you can have up to 14 sub-accounts with their own individual information and virtual cards. The main business account also has its own virtual cards, on which you can generate multiple to track different costs. Plus, all cards are customizable with different names.

In addition to virtual cards, you also receive a physical USD business debit card for making payments and withdrawing cash at ATMs without fees - charges may only apply from ATM operators.

Other key features are API access and integration with Xero, US PayPal, Gusto, Stripe, and Quickbooks, allowing you to automate payments and transactions synchronized on one platform.
One of the most popular fintechs for business and personal accounts, Wise is best known for offering global banking services at one of the lowest exchange fees. Companies can benefit from Wise's multi-currency account details in the US, UK, Europe Union, Australia, Hungary, New Zealand, Singapore and Romania. Also, the financial setup also allows you to open simultaneous wallets in more than 50 currencies. Wise makes it possible - and easier - to maintain many accounts in your company's name. Opening it's simple and takes up to 7 days for approval after sending your business' documents and personal data. The fintech company is authorized as an Electronic Money Institution (EMI) and follows a strict set of rules by regulatory agencies all over the world, such as FCA in the UK, FinCen in the US, and ASIC in Australia. In practice, it means that Wise is committed to protect its users against any fraud.
Opening an account is free, however a one-off fee of $20, £16 or €20 is required to start receiving money. Once you take this step out of the way, your company is ready to start benefiting from a business account with zero monthly fees. Wise has a transparency policy that shows customers exactly how every penny is being spent. Fees are mainly applied for money transfers, where a small rate of about 0.4% is charged according to the currency, combined with a low fixed fee for any interbank transfers. If you send more than £100.000 (or equivalent in another currency) per month, a discount on transfer rates is applied. Cash withdrawal of less than $100, £200 or 200€ is free of charges, higher amounts are subjected to a 2% fee.
Wise app and website contains all the necessary tools to manage your business account online. The platform offers a user-friendly interface and reliable customer support, making it very easy to use. Moreover, you can add team members as admins and viewers status to help you manage your entity's finances. Your employees can also get their own card for business expenses, in which you'll be able to track their spending in real time in your account. Of course, when you open your account, you'll have access to a global physical debit card. This business card is beneficial to your entity as it supports multiple currencies across the globe, giving you the flexibility to pay expenses without foreign transaction fees. The card is also useful for ATMs withdrawal, in which amounts of $100, £200 or €200 are free of charge. Finally, to automate payments, Wise offers integrations with Xero and Quickbooks, as well as it works with Stripe and PayPal to easily withdraw to external accounts.
The best setup for your business
There's no doubt that both business bank accounts are extremely beneficial to your company's expenses. To ensure a strong presence within the US, we strongly recommend using Mercury, as it offers real US bank accounts. To be present financially in other parts of the world, Wise is the best choice for your business!

Since both banks have no maintenance rates and multiple benefits, you can combine both business bank accounts. It will give you instant cards, easy account management, extremely low fees and conversion rates. Maintaining Mercury and Wise accounts together is even recommended by Mercury's Help Center.
LEARN MORE
How to open a US business bank account as a non-resident of the US? Read more on our ultimate US business bank account guide here.