Editor's Ultimate Setup for your business' financial management
Having a business bank account is one of the most important things for growing a company. It separates your personal and professional finances, allows you to keep track of the expenses, simplifies tax reporting, and enables your entity to accept personal credit cards on payments.

The more your business grows, the more you need to strengthen a relationship with your bank. For online companies, it's essential to look for multi-currency accounts that support US bank details, as the major merchant platforms, like Amazon and Shopify Dropshippers, primarily use USD currency.

But how to choose the ideal bank for your business? In this article, we will highlight our editor's top choices for best managing your finances in 2021.
As mentioned before, it's highly recommended for online companies to have multi-currency accounts that include USD. From this point, you have two options:
Options:
1 - you can choose a traditional US bank whose biggest slogan is "your money is safe with us"; 2 - you can open a business bank account with a fintech company, which is tech-focused in solving customers' pain points that traditional banks have neglected for decades.
If you choose the first option, be prepared for a really time-consuming process that will require booking a flight to the US, in order to finish the account opening in person. Obviously, we choose the second option, which leads to an easy and fully online process to open a business bank account. It's important to mention that although fintechs don't share the same 'slogan' of traditional financial institutions, neither have full banking licenses, they are still regulated by various agencies and they partner with traditional banks, thus they are secure places to trust your business gains.
There are many fintechs tailored for business arising every day on the market, each one focused on solving different pain points of consumers. In this sea of opportunities, you must choose those with the best features, which are: global accounts, multi-currency wallets, low fees, fast transactions, reliable customer service, and corporate debit cards.

We recommend picking three business bank accounts: Wise for multi-currency accounts, Mercury for a US bank account, and Airwallex for a strong presence in Asia and Oceania. Holding these three accounts can be extremely beneficial for your company, since it ensures a strong global presence, extremely low fees, and managing all of your finances over the phone.
These three fintechs are the best choice due to their international recognition, strategic partnerships with banks and other institutions, exclusive perks for businesses, and, especially, covers all your company's needs, whether it is a small or a large entity.
Wise (formerly TransferWise) provides international business account details even as a non-resident of a country. You can open accounts in GBP, EUR, USD, AUD, NZD, HUF, RON, and SGD. Furthermore, you're able to store payments in more than 50 other currencies.

The fintech revolutionized the financial market with a powerful multi-currency account that includes the lowest exchange rates on the market, and extremely fast overseas transactions - that usually take days at traditional banks.

Wise charges a small fee per transfer, around 0.4%, depending on the currency, and a low flat fee for any payments made to a different bank. However, transfers of more than $100.000 (or equivalent in other currency) per month are eligible for a discount rate.

There's no doubt that Wise is your way to go for better financial management. The fintech allows adding your team members to the account as admin and viewers, it also supports API and Xero integrations for automated payments.

Sign-up and access the best conversion rates!
Mercury is a fintech made to meet startup needs in the United States. The company has been attracting many non-resident entrepreneurs due to its easy and simple account opening process, which is totally different from traditional banks in the US.

The business bank account holds USD currency, with low fees and zero bureaucracies. Mercury doesn't charge monthly, overdraft, or other hidden fees. It charges only $5 for domestic wire transfers and $20 for international ones.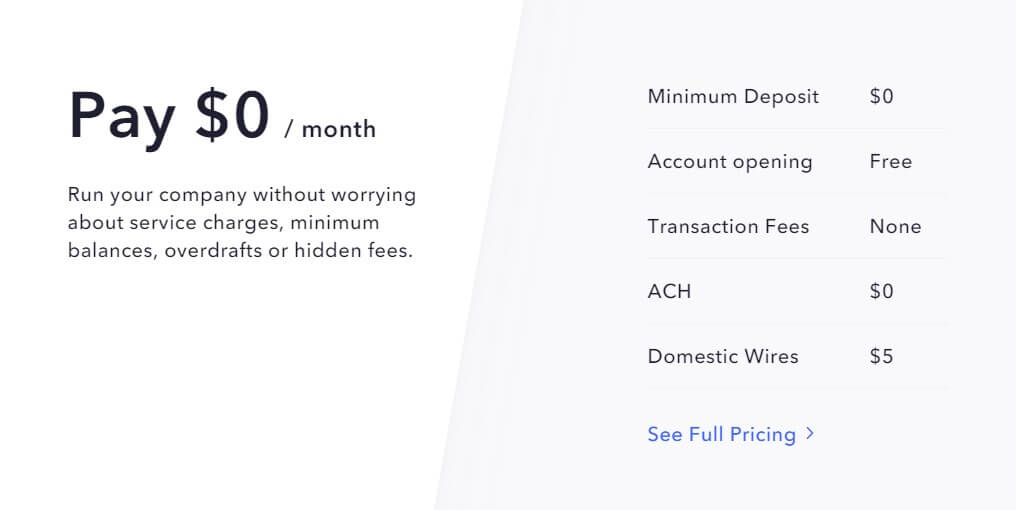 Once your account is open, you'll receive a corporate debit card, and will be able to generate up to 50 virtual cards. The business account also supports sending and depositing checks online and offers integrations with QuickBooks, Xero, and Zapier for easier financial management.

Accounts holding more than $250.000 automatically join 'Mercury Tea Room', with numerous exclusive benefits, such as free domestic wire transfers, extra funds invested into low-risk U.S. government securities, partner perks, and free tea.

Mercury is the cheapest and easiest way to set up an account in the USA without having to book a flight to the country.

Sign-up within 3 days to receive $50 when you spend $1000!
Airwallex is a global payments fintech with a strong presence in Asia and Oceania markets. The company is business-focused on providing online financial services to international companies. The fintech allows customers to open free virtual and collective accounts, in which it's possible to add team members to help with financial management. Customers can have local bank details in the US, Europe, Hong Kong, Japan, and Australia. It also allows you to keep funds in multiple currencies to avoid exchange fees.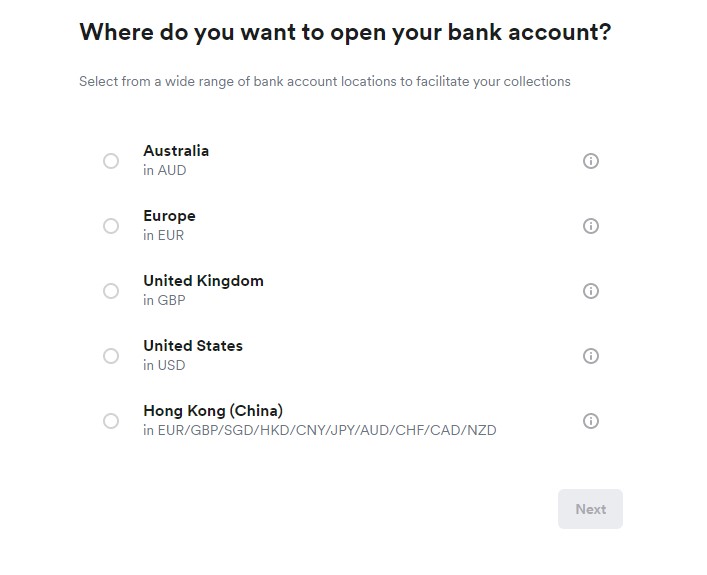 Businesses that open an account on Airwallex can benefit from a borderless debit card that can be used anywhere in the world. Moreover, the global payment fintech supports transactions in over 23 currencies at highly competitive fees.

Rates vary by transaction. There's a fixed fee based on the payment method and currency, and users may also be charged for conversion rates in foreign transactions, which is a percentage on top of exchange rates (only 0.3% - 0.6% above interbank rates).

Airwallex excels in allowing companies to automate payments using API integrations, and also supports Xero integration for an automatic financial management.

If your company wants to expand to Asia and Oceania, Airwallex is the best option for international companies.
In a nutshell, Wise is the fintech leader in multi-currency accounts at extremely low fees, Mercury in business bank accounts within the US, and Airwallex is leader in Asian markets. Foreign entrepreneurs can benefit from the three services at the same time and guarantee a strong commercial presence all over the world.

By using Wise, Mercury and Airwallex, you'll be able to make and receive payments easily, convert to other currencies at the lowest exchange rates, make super-fast transactions, have business debit cards on hands, multiple online cards, and automate payments. All your business needs are solved with those three bank accounts.
LEARN MORE
How to open a US business bank account as a non-resident of the US? Read more on our ultimate US business bank account guide here.