How to open an account on Mercury Bank (Step-by-step)
Do you know the easiest way to open a business bank account in the United States? Most people would look for brick-and-mortar institutions, whose opening process is fraught with red tape and taxes. A much easier way is setting up the US account with Mercury, a foreign-friendly neobank focused on companies that are in America. You can apply for a business bank account completely online and receive feedback from Mercury in just a few days. To make it even easier for you and help you gather all the necessary documents, we will go through Mercury's application process, detailing all the questionnaires to help you prove your eligibility for a business bank account.
Before applying for a Mercury bank account, make sure your company is registered in the US and has an EIN (Employer Identification Number). This is a necessary step to open any business bank account in America.

Step 1 - Once you have incorporated your company, you're ready to start the application process. The first details you need to provide are your full name and corporate email address. Then, you will also need to choose a password and agree to the Electronic Communication Agreement.
Step 2 - After filling in the basic information to open your account, you'll have to drill down into your company details, providing your entity name and role in the business. You can choose one of the roles below:
Step 3 - Create a unique callsign for your team that will be used as a custom URL: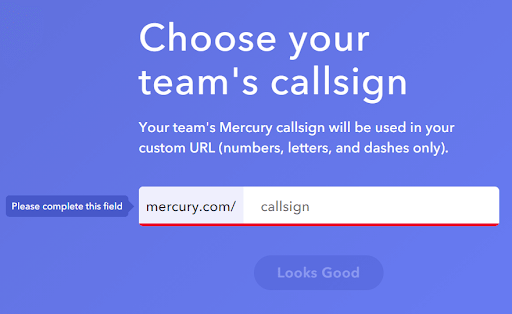 Step 4 - Choose the best option that describes your type of business. Note that Mercury only accepts accounts if your company is one of the following options:
Other business options related to monetary services, or those involved in adult entertainment, marijuana, or internet gambling are not accepted by Mercury due to mismatch with the neobank's services. If your company fits one of the three options, the next step is to agree to the 'PATRIOT Act Disclosure US', which in practice allows the neobank to request and check your business and personal documents, in order to verify your identity and understand better the corporation's activities.
Step 5 - Start creating your company profile. This is the longest and most important part of your application, where you'll have to provide some legal details about your business and team.

You can start filling in any order and, if you want to finish the profile later, there's the option to save the progress at any point to continue at another time.

Your corporation profile is divided into six sections:
In this section, you must provide more details about your entity, including the website, legal name, EIN (Employer Identification Number). It's also important to describe your business in a few words and specify the major investors - if any.

To complete the first part, you must also choose your company type from the options given (Ex: C-Corp, LLC, Non-Profit), and the industry your business is focusing on.
The next step is to give your company location and contact details: Where is it based? What is the business address? What is the phone number?
To successfully open a business bank account with Mercury, it's important to detail other shareholders' information, as well as who is responsible for managing the finances (CFO). You can fill in all the information yourself, or send them to insert their personal data, such as full name, email, job title, ownership percentage, home address, and also submit a photo of their ID.
The fourth step is basically to specify if your corporation has a DBA (Doing Business As), which would be the case of entities that have a fictitious name, or if the company has officially changed its name.
In this part of your application, you must upload all formation documents that prove that the company has been registered in the US. Articles of Incorporation, Certificates of Formation, or similar documents are sufficient to prove that you started a business in the US.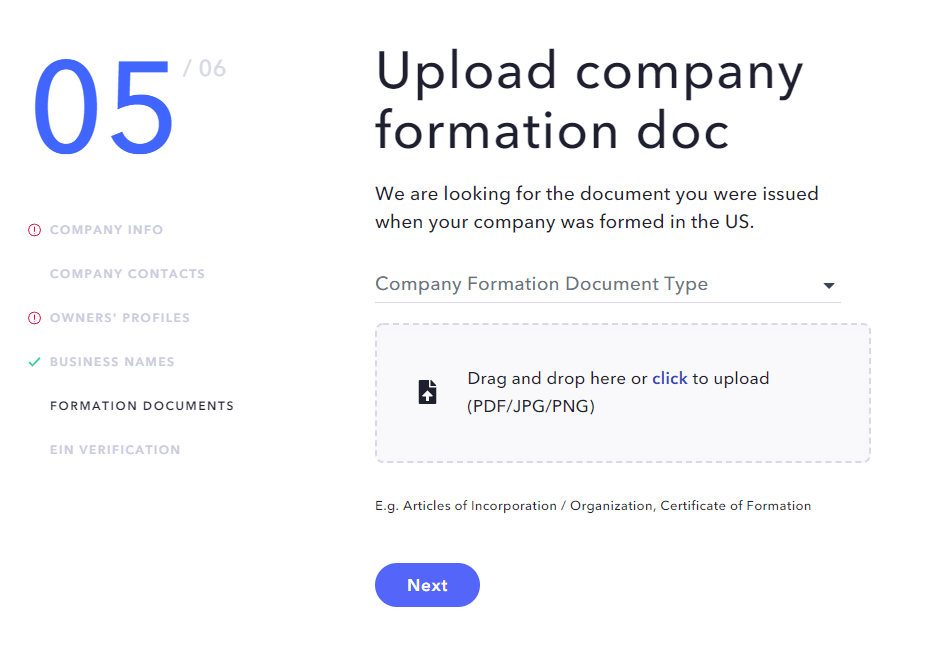 The last part consists of uploading your company's EIN verification letter. Mercury accepts as valid documents: Form CP 575, 147c letter, IRS-returned SS-4, or a screenshot of the IRS website showing your EIN.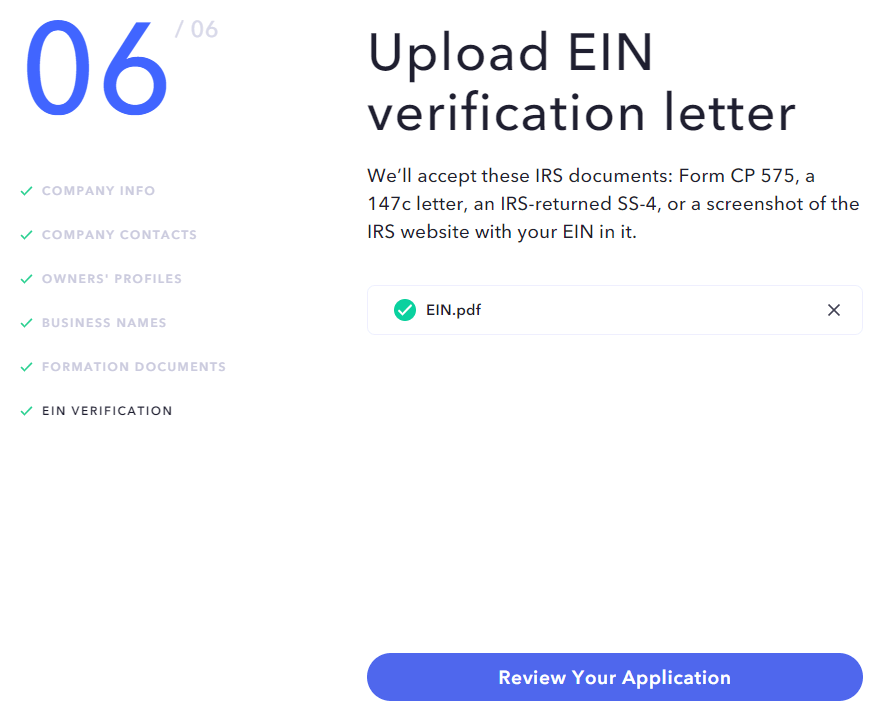 After completing the six steps, you are able to review your final application, agree to the legal conditions and submit your company profile for verification.

Please, note that even though there is some optional information, the more data you provide, the easier it will be for your application to be accepted by Mercury. Answering transparently all questions gives you more chances to start enjoying your new business bank account services.
LEARN MORE
How to open a US business bank account as a non-resident of the US? Read more on our ultimate US business bank account guide here.