How to open a business bank account in the UK as non-resident
Foreign digital entrepreneurs who are willing to expand their business to the United Kingdom will eventually have to face the usual misgivings about a business bank account. Separating personal and professional finances, avoiding unnecessary exchange fees, simplifying tax reporting, gaining credibility with your clients - these are the reasons why having a solid knowledge of how to open a business account is essential.

Choosing the right bank account for your company requires a lot of research, in which you should consider the services your business seeks, the rates and fees, the relevance among customers, the bureaucracy, and the necessary documentation you must provide. It's important to understand the process of opening a business account and the singularities of your company's finances in order to pick the best bank for your corporation's success.

Opening a UK bank account can be easy if your company has an established physical presence in the country. However, if your business plans to continue operating abroad, it can be difficult to set up a business bank account at traditional banks. Fortunately, fintechs have overcome geographic barriers to allow easy global bank accounts from anywhere in the world.

If you're expanding your corporate presence to the UK and are looking for an easy way to open a business bank account in the country, in this article we will highlight the best options for managing your finances in GBP from overseas.
Hurdles for foreign entities
Although no legal restrictions prohibit non-UK residents from opening a business account in the country, many banks may not accept applications from overseas or without proof of address within the UK. Traditional financial institutions will also require a face-to-face meeting before providing the business account, in which you will sign a bank mandate to avoid fraud concerns.

Some traditional banks, such as Barclays, Lloyds, HSBC, and NatWest, may even accept opening international accounts from abroad, however, they demand a large initial deposit, commit to paying a minimum amount every month, and they may even charge you a monthly fee, making it very expensive to hold an account in those high-street banks.

Here are the main documents you have to provide in order to open a business bank account:
As foreign entrepreneurs, opening a business bank account at UK traditional banks can only be a good deal if you actually need or prefer to walk into a branch. Otherwise, digital banks and fintechs are much easier for non-residents to establish a business account in the country with less bureaucracies.
The best option for foreigners
Recently a wave of revolutionary fintechs hit the financial market proposing an uncomplicated way to set up bank accounts. These tech-solution companies have grown on top of the pain points of traditional banking users, especially regarding rates and fees, foreign currencies, transaction speed, and bureaucracies. Fintechs, such as Wise and Airwallex, have made it easier for international companies to hold bank account details in different countries with lower taxes and centralized online platforms. You can manage your business finances from anywhere, via phone or computer. A big benefit of online financial institutions is that the opening process is easier and doesn't require proof of UK residency. Moreover, depending on the fintech's offerings, you can also have the flexibility to hold money in GBP, as well as other currencies relevant to your business, such as EUR and USD.
Open a business account with a fintech
First of all, consider opening a bank account at an institution that has a financial plan that suits your business's needs. If you own an online company, startup, or any overseas-run corporation, fintechs are definitely the most suitable option for your business, allowing you to open a business bank account 100% online and remotely.

Usually, these fintechs offer services similar to those of high-street banks, such as account opening, transfers, debit cards, domestic and international transfers, loans, ATMs services, and consultancy. Additionally, some fintech companies even allow automated payments through API integrations.

As you can see, fintechs provide your business with all the features and support needed to fully manage your business finances anywhere in the world. We listed the top 3 online banking applications worth opening an account.
Wise (formerly TransferWise) is a tech-leader in offering international bank account details to non-residents in a country with one of the lowest transfer fees. You can open business accounts to send, receive, and spend money at a real exchange rate.
The financial management service supports businesses with a multi-currency account, attractive exchange rates - up to 8 times cheaper than with a bank - and less bureaucracy. Wise is ideal for companies focused on international markets that manage multiple currencies.

Opening a business bank account with Wise also allows you to hold corporate debit cards to use and withdraw money abroad. In addition, the fintech has direct integration with Xero and Quickbook accounts.

Sign-up and access the best conversion rates!
Like Wise, Airwallex allows businesses to hold business bank accounts in different countries at very competitive exchange fees. You can open accounts in the UK, USA, Europe, Hong Kong, Japan, and Australia. Furthermore, Airwallex supports over 50 currencies, eliminating unnecessary conversion rates.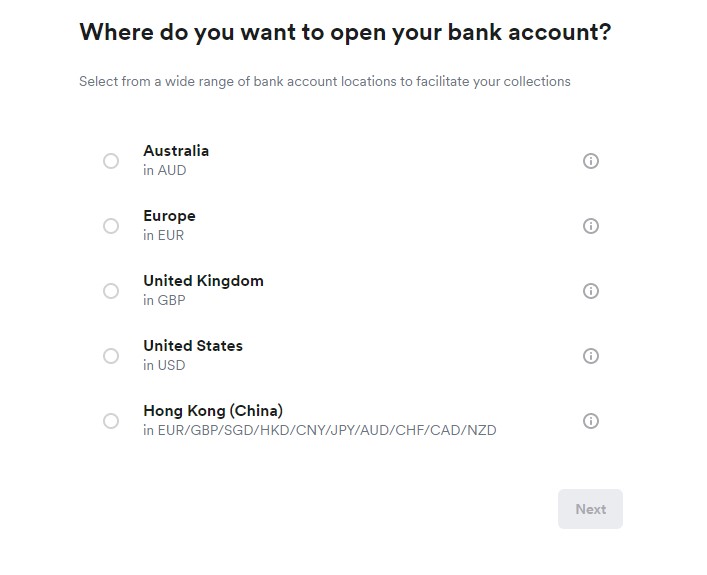 This fintech is ideal for international corporations looking to expand their presence in the Uk, USA, Asia, and Oceania markets, since Airwallex is growing rapidly in these regions. The business bank account allows you to automate payments using API integrations, and also supports Xero to simplify bookkeeping, allowing you to centralize multi-currency transactions in one single platform.
Monese offers the main services of a standard bank in one app. The fintech provides businesses with debit cards accepted in 200 countries, competitive currency transfer fees, transaction categorization, invoice and expense reports.

While Monese offers great features for companies looking for a UK business bank account, the account opening process is more complicated than Wise and Airwallex, in which you need first to register your company in the United Kingdom.

Monese's services are also limited to residents of the European Economic Area (EEA), so if your business is based outside the EEA, you should consider opening accounts primarily with Wise and Airwallex.
LEARN MORE
How to open a US business bank account as a non-resident of the US? Read more on our ultimate US business bank account guide here.