Top 3 business bank accounts for LLCs in 2021
All Limited Liability Companies (LLC) should have a business bank account to separate personal from company finances. As your corporation grows, so does the relationship with the financial institutions holding your bank accounts. To get the best out of this, you should carefully choose banks according to your business' needs and the advantages they offer to customers.

In a digital age where finances can be managed fully online, the best features to look for in a business bank account are multi-currency accounts, payroll services, digital debit and credit cards, low rates, fast transactions, accounting software integrations, and reliable customer support.

With those services available to your business, you're able to better organize accounting records and receipts, create a clear audit trail, project cash flow, streamline taxes and bookkeeping. On top of that, a separate business bank account establishes your company's financial presence and ensures owners' limited liability protections.
Nowadays, LLCs looking for the best financial institution have to make a choice: to open business bank accounts with traditional banks, whose biggest advantage is the security of your money in physical branches; or to keep up with the market trends by opening a business account with a fintech (a tech-focused company built to ease banking processes in an innovative process).

Before opening the account, choose the financial institution that best suits your entity's needs. Overall, we only recommend high-street banks if you actually prefer going to a branch to manage your assets in person. Otherwise, fintechs are considered the future of banking and can offer more benefits for your business.
Options:
1 -Traditional banks Offers physical branches and a face-to-face relationship with the bank. You will have the option of having a personal contact to solve any issue, however, you'll be limited to the branch's locations. Additionally, to open an account, you'll need to visit the bank so that they can verify your identity.; 2 - FintechsWorks virtually, allowing you to open an account and manage your finances online, using your phone or computer. Fintechs generally don't have location limitations, so you can access your banking services and open an account from anywhere in the world.
We strongly recommend opening a business bank account with fintechs as they allow you to manage your finances completely online. Look for the ones that are strictly regulated by financial conduct authorities and international watchdogs. In addition, many fintechs have strengthened partnerships with traditional banks that have interest in being part of the financial revolution, which means that your money is safeguarded with them.

Since the 'Fintech Boom', many digital banks have emerged, each one solving a different problem of brick-and-mortar institutions. Among all financial services options, we'll highlight the top 3 for LLCs to open a business bank account.
Wise (ex TransferWise) provides business with international bank accounts from overseas. You can set account details in EUR, USD, GBP, AUD, CAD, HUF, NZD, RON, SGD and TRY. Additionally, you can store over 50 currencies in separate balances and exchange them at highly competitive rates.

Opening an account on Wise is simple: you need to prove your company's address and registration, specify the type of business, send links to your website and social media, and provide the owners' personal details. It may take up to 7 days to have your business account approved. Once you get your account details, you're ready to start managing your finances fully online.
Wise is ideal for small, medium and large LLCs that deal with international markets and various currencies on a daily basis, making multiple cash deposits per month. We recommend Wise, especially if your business makes considerable transfers on a daily basis, as you'll receive a discount on fees based on your monthly transaction volume.
The company is authorized as an Electronic Money Institution (EMI) by the UK Financial Conduct Authority, and it's strictly regulated in the US, UK, European Economic Area, Australia, Canada, Hong Kong, India, Indonesia, Japan, Malaysia, New Zealand, Singapore and the United Arab Emirates. Wise regulations include FCA (Financial Conduct Authority) and HMRC (Her Majesty's Revenue and Customs) in the UK; in the United States it's registered with the AUSTRAC (Financial Intelligence Unit) as a money remitter and it's authorized by the FinCEN (Financial Crimes Enforcement Network); while in Australia, Wise is regulated by the ASIC (Australian Securities and Investments Commission).
Companies can open a Wise account for free, they only need to pay a one-time amount of £16 (or equivalent in another currency) to access different bank details. Once you open your account, you're free from monthly rates and also no overdraft fees either.

There's a small fee for converting currencies and sending money, which varies from currency to currency. You can check the differences on Wise's website. In addition, businesses holding more than €70,000 in EUR balance must pay an annual fee of 0.40%.

Wise business debit cards are available free of charge in Europe, Asia and Oceania. In case of loss, you can replace it for a new one by paying £3 or equivalent. There's also a small currency conversion rate of around 0.33% to 3.56%. ATM withdrawals are free if less than £200, if more, a 2% fee is charged.
Airwallex provides services similar to Wise, but with a strong presence in Asia and Oceania markets. You can open business accounts in USD, EUR, GBP, AUD, JPY, HKD and also keep funds in more than 50 currencies to eliminate unnecessary conversions. The fintech offers highly competitive exchange fees and extremely fast cross-borders transactions.

Opening a business bank account with Airwallex is easy, you just need to provide your email address, phone number, business name, and agree to the terms and conditions. Your account will be secure under multiple layers of authentication and encrypted security.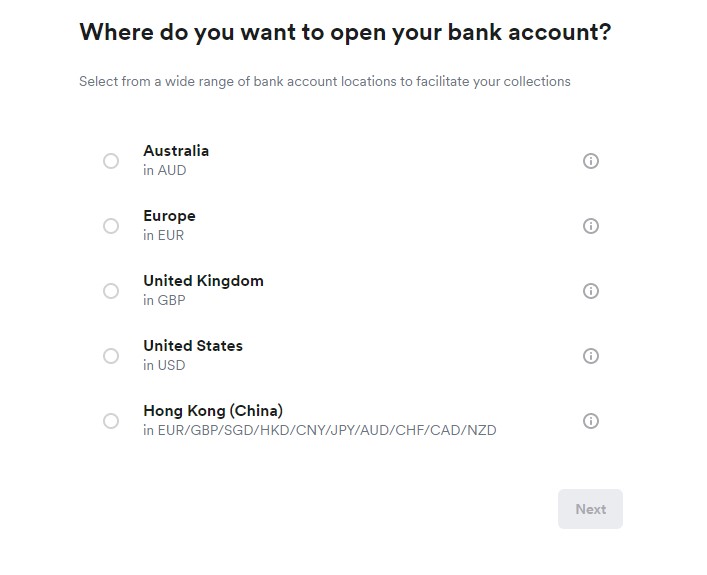 Small to mid-sized LLCs that also want to establish a strong presence in the Asian and Oceania markets.
Airwallex is fully licensed and regulated to act as a financial service by Australian Securities and Investments Commission (ASIC); Hong Kong Customs and Excise Department; Financial Conduct Authority (FCA) in the UK - also adhering to The Money Laundering Regulations, The Terrorism Act and Proceeds of Crime Act -; and Financial Transactions and Reports Analysis Centre of Canada (FINTRAC). In addition, the fintech company is licensed in the Netherlands as an Electronic Money Institution, being supervised by the Dutch Central Bank. This also allowed Airwallex to offer its regulated payment services across the European Economic Area (EEA).
Opening a business account is free of charges, with no minimum deposit and no monthly fee. Customers can also have access to a borderless card for free, on which international transactions will be charged according to interbank rates plus a small margin depending on the currency.

UK domestic and batch transfers are free, as are payments made within the Airwallex network. On the other hand, international transfers are subject to a fixed rate depending on the payment method and a variable margin on top of foreign exchange conversions (trading between 0.5% and 1% above interbank rates).
Mercury is a bank made exclusively for corporations that want to establish a presence in the world's largest economy. The startup developed the easiest way to open a business bank account in the US from overseas. You can do the process entirely online, however, first you'll need to register your company in the country and have an EIN (Employer Identification Number), which is required in all US banks.
International LLCs that want to establish a strong presence in the United States. Mercury is also recommended for digital merchants that sell products online on platforms that accept primarily USD, like Amazon and Shopify.

Companies holding more than $250.000 can greatly benefit from Mercury's services once they become part of the Tea Room, an exclusive club full of benefits and perks from partners.
All savings and checking accounts are insured by the Federal Deposit Insurance Corporation (FDIC), which means your money will be protected by the US government up to the limit value insured of $250.000 for single ownership accounts.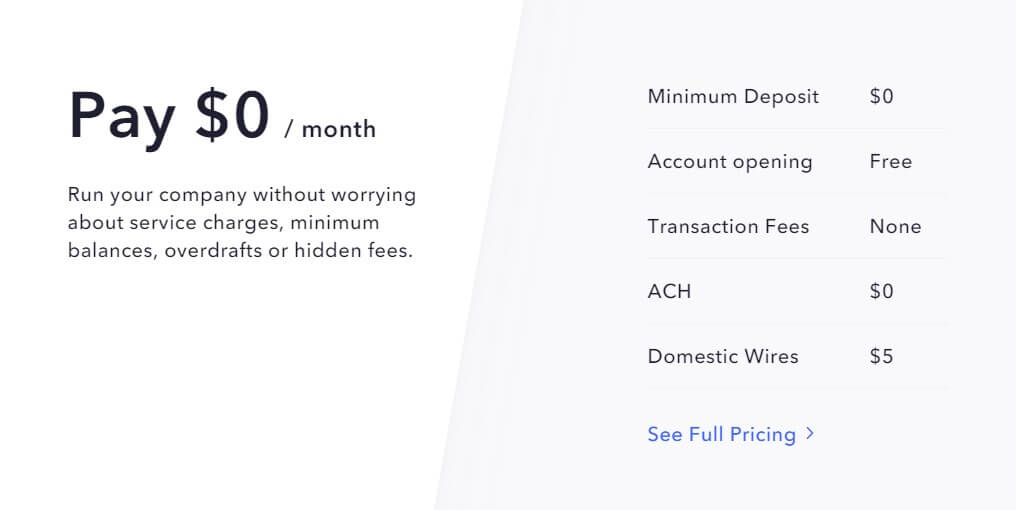 Mercury accounts are free, with no minimum deposit or monthly rates required. Customers can make electronic transfers, send and deposit checks free of charges. Basically, you'll only be charged for making wire transfers ($5 domestically and $20 internationally).

Accounts over $250.000 are automatically upgraded to the 'Tea Room', whose benefits include free wire transfers, extra funds invested in the low-risk US Treasury, partner benefits and perks and, of course, free tea.

Mercury also offers companies a free business debit card in USD and the option to create up to 50 virtual cards. You can use your physical card to make payments and withdraw cash at ATMs with no fees - charges may apply from the part of ATM operators.
Summary - open three accounts
In a nutshell, Wise is the fintech leader in multi-currency accounts at extremely low fees, Mercury in business bank accounts within the US, and Airwallex is leader in Asian markets. Foreign entrepreneurs can benefit from the three services at the same time and guarantee a strong commercial presence all over the world.

By using Wise, Mercury and Airwallex, you'll be able to make and receive payments easily, convert to other currencies at the lowest exchange rates, make super-fast transactions, have business debit cards on hands, multiple online cards, and automate payments. All your business needs are solved with those three bank accounts.
LEARN MORE
How to open a US business bank account as a non-resident of the US? Read more on our ultimate US business bank account guide here.